Hubungi Sales kami untuk membantu anda.
_________________________________________________________________________________
_________________________________________________________________________________
Kami mencoba untuk menyajikan data seakurat mungkin, namun untuk kepastian, disarankan untuk merujuk pada spesifikasi resmi pada situs-situs produk yang bersangkutan.
Bila Anda menemukan kesalahan dalam database kami, silahkan beritahu kami, sehingga Anda pun ikut membantu pengunjung lain mendapatkan data yang benar.
_________________________________________________________________________________
Harga, Jual, Spesifikasi, Review
Webcam  Car Recorder Camcoder remax rear view mirror and recorder CX-02 malang - Kios komputer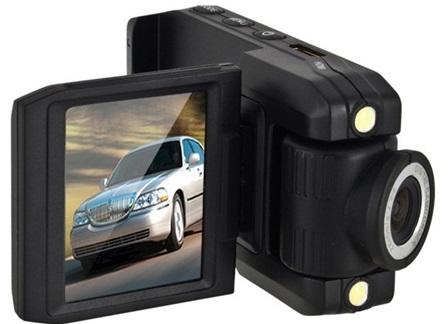 Baco DVR Camera hadir dengan layar 2.0", merekam dengan resolusi 1080p, lensa Wide Angle, serta dilengkapi dengan IR Night Vision sehingga Anda dapat merekam maupun mengambil gambar dengan jelas pada malam hari.
Features
Digital LCD
Memiliki layar dengan ukuran 2.0 inch untuk menampilkan hasil rekaman.
2 IR LED Night Vision
Kamera rekorder ini memiliki 2 LED night vision sehingga Anda dapat merekam dengan jelas pada malam hari.
G-Sensor
G-Sensor berfungsi untuk mendeteksi guncangan pada mobil seperti saat rem mendadak, benturan, dll. Saat mendeteksi guncangan ini, kamera akan langsung aktif dan merekam kejadian atau bencana yang terjadi.
720p
Dapat merekam hingga resolusi 720p. Rekam perjalanan mobil Anda dengan kualitas full HD.
Camera Holder Included
Anda mendapat sebuah kamera holder untuk meletakkan kamera DVR di mobil Anda.
Package Contents
Barang-barang yang Anda dapatkan di dalam box :
1x Baco Car DVR Camcorder P5000
1x Holder
1x Lighter Mini USB Charger
1x Mini USB Cable
Dengan car camcoder ini Anda dapat merekam setiap perjalanan Anda. Dengan resolusi rekaman mencapai 1080p, Anda dapat merekam perjalan Anda dengan kualitas HD.
Rare View Mirror
Also serves as the rearview mirror. On the left there is a rear-view mirror 4.3-inch LCD to view the recording.
High Quality Picture Reproduction
The camera sensor has features such as HDR (High Dynamic Range), WDR (Wide Dynamic Range) and dewarping so that the resulting picture quality is very good.
1080p
Can record up to 1080p resolution. Record your car journey with full HD quality.
170 Degree Field of View
Can record with a wide viewing angle up to 170 degrees.
Original Remax CX-02 Tachograph Car Dashboard Camera Car DVR 1080P HD 30FPS
Remax Original CX-02 FHD 1080P Car DVR Camera 4.3 inch LCD Night Vision Tachograph
Feature:
Car rearview camera shape. Use the rearview mirror was installed immediately. A wide viewing angle of 170 degrees
Large sensor and video camera lens eight pieces to the clear, bright images.
Supports video resolutions up to Full HD.
Supports recording still images at resolutions up to 12 megapixels.
Night Vision allows you to record videos with clarity even in low light conditions. With high quality IR aperture.
Set to automatically record video when motion is passed in front of the camera with Motion Detection.
Set to record video automatically if an accident emergency motion through a G-Sensor.
The display comes with a built-in microphone and speaker.
Specification
| | |
| --- | --- |
| Brand | REMAX |
| Model | CX-02 |
| Screen size | 4.3 inch LCD  (480*272) |
| Main lens aperture | 2 |
| Lens | 170 degree untra wide angle lens |
| Number of cores | Mononuclear |
| Video resolution | 1080P / 720P / 480P |
| Video format | MJPEG  AVI |
| Photo resolution | 12M / 10M / 8M / 5M / 3M / 1.3M |
| Photo format | JPG |
| Memory card | TF Card |
| Microphone | Built in |
| The light source frequency | 50HZ / 60HZ |
| USB Interface | USB 2.0 |
| Power | 5V  1A |
| Battery | 3.7 Polymer battery |
| Running out of memory | 128M |
| Number of lenses | 1 |