Hubungi Sales kami untuk membantu anda.
_________________________________________________________________________________
_________________________________________________________________________________
Kami mencoba untuk menyajikan data seakurat mungkin, namun untuk kepastian, disarankan untuk merujuk pada spesifikasi resmi pada situs-situs produk yang bersangkutan.
Bila Anda menemukan kesalahan dalam database kami, silahkan beritahu kami, sehingga Anda pun ikut membantu pengunjung lain mendapatkan data yang benar.
_________________________________________________________________________________
Harga, Jual, Spesifikasi, Review
Gamepad Stick  android, iphone,Ipega Mobile Wireless PG-9021
Bluetooth 3.0 - Kios komputer
Convenient Way to Play Game !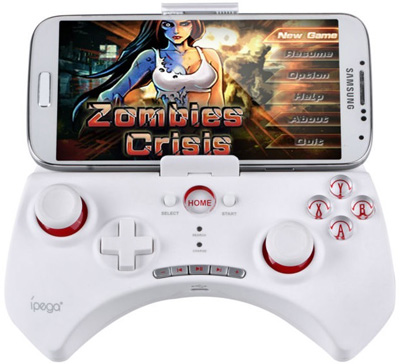 Ipega PG-9025 is a new design wireless bluetooth controller with multimedia keys and support different Android / iOS / PC and etc games.
Features
Bluetooth 3.0 Connection

With this features, You can connect this gaming controller to any Smartphone and Tablet PC that have bluetooth. You can play your favorite games on any device you like !

Multimedia Keys

Easily control your phone with this multimedia keys. You can play, stop, next, previous, volume up, volume down your music, movie and games.
Telescopic Holder

You can put your Smartphone on this controller. The holder can be adjusted easily so it fits your Smartphone. Making this gaming controller more convenient for playing games.

Compatibility

Compatible with iPod/iPhone/iPad as well as the vast majority of Android tablet PC.

Other Features

Features of Ipega Bluetooth gaming controller :

Built-in lithium battery, after charging can be sustainable long-term use, safe and stable.
Bluetooth 3.0 wireless transmission can be 6-8 meters wide range of control from the operation.
User-friendly software designed to enter the power saving mode with no connection state.
Game Support Descriptions
The Compatibility problem exist on the part of the game of android 4.0 system support of the vast majority of the simulator as well as racing and tower defense type of game under the android system. (ie FC simulator, GBA simulator, Arcade emulator, SFC simolator, N64 simulator, Shadowgun, Sonic SD Cordy, Soulcraft, Zenonia4, 9 Innings 2013, The reptide GP, Angry Birds, Fruit ninja, The Airbag Frank 3D Plantsvs, Zombies, Gunsn Glory etc.)
Support of the vast majority of the game with a virtual keyboard under ios system. (i.e. GunmamClive, Helium Boy, League of Evil League Evil Muffin Knight Free Stardash, Temple the Run, etc.)
IPEGA Remote Bluetooth Gamepad Controller (PG-9025) Specification
The IPEGA remote Bluetooth gamepad is portable and small that you can carry around anywhere. And if the device is fully charged then you can enjoy playing simulator games for almost 20 hours.  Here are some of important details and specification of PG-9025:
BRAND: IPEGA
MODEL: PG-9025
COLOR: BLACK
MATERIAL: Plastic (but the touch and feel is like leather)
SUPPORTED OPERATING SYSTEM
Android 3.2 (minimum) and above
iOS 4.3 (minimum) and above
CONNECTION: Bluetooth version 3.0 + HS
BATTERY: This device uses a built-in lithium battery where you can easily charge anytime through USB.   The IPEGA remote Bluetooth gamepad charging time is up to 2-hours and can be used to at most 20 hours game time or 100 hours if on stand-by mode.
HIGHLIGHTS: PG-9025 sports a telescopic holder that can support any device with a max height of 5.5 inches. Also, you can check out 5 multimedia button controllers enabling you to remotely work with your multimedia apps like when you wanted to adjust to volume, play a song, and many more. Since PG-9025 also works with the use of Bluetooth, you can access your smartphone within 6 – 8 meters (I just wonder how are you going to play with your Android or iPhone with that far! LOL!).
___________________________________________________________________________
How to setup your IPEGA Remote Bluetooth Gamepad Controller For Android
The steps and video below will provide you an overview and step-by-step guide on how you can setup or configure your controller with Android devices. The video from my friend Petiksmode.com used his HTC One M7 to pair with IPEGA PG-9025 remote Bluetooth gamepad.
Install iPega Game Center English version from the links below. This will serve as your IPEGA remote Bluetooth gamepad driver for your Android device. The file is an APK file named "IPEGA Game Center_ENG.apk". If you are not familiar with how to install an APK application on your device, you can check it from MakeTechEasier.com. The file size is 18MB so you need to check your Android phone if you still have enough space for the install file and installation process.
Once you have installed the IPEGA Game Center successully you need to enable BitGames IME as default input.
Then turn on the controller by pressing Y + Home button simultaneously. Wait until the red LED indicator blinks as it pairs with your device.
Once the red LED indicator blinks, you need to open now your IPEGA Game Center application from your Android device. Go to mydevice and bind controller.
A console will open. This will help you calibrate your controller.  Try moving the joystick and the buttons.