Hubungi Sales kami untuk membantu anda.
 _________________________________________________________________________________
_________________________________________________________________________________
Kami mencoba untuk menyajikan data seakurat mungkin, namun untuk kepastian, disarankan untuk merujuk pada spesifikasi resmi pada situs-situs produk yang bersangkutan.
Bila Anda menemukan kesalahan dalam database kami, silahkan beritahu kami, sehingga Anda pun ikut membantu pengunjung lain mendapatkan data yang benar.
_________________________________________________________________________________
Harga, Jual, Spesifikasi, Review
casing gaming cooler master Master Case PRO 5 malang - Kios komputer
FreeForm™ Modular System
Clip-and-click panel
Dual chamber design
Supports 6x 140mm fans
Support 3x dual-slot VGA
2x slip&clip SSD pockets
Includes top mesh panel
Includes top bracket
The MasterCase heralds a new case family that offers you unparalleled control. Drawing inspiration from our MasterConcept, this is a case that goes back to our roots, picks up the Cooler Master flag, and charges boldly over the horizon into a new dawn for case technology. We want you to have absolute control over how your case looks and functions, and that means giving you the option to adjust the exterior structure and aesthetic via a range of replacement panels and doors. Each choice changes the look and feel of the case, but also the flexibility of the interior layout.
FREEFORM™ MODULAR SYSTEM
At heart, the MasterCase 5 advocates a new relationship that binds component makers and users closer together. Its elegantly smooth, flexible FreeForm Modular System supports multiple outlooks, allowing you to upgrade rather than entirely replace your case as your needs change over time. Go with either basic dual top handles and standard door of the MasterCase 5 or an elevated mesh top cover of the MasterCase Pro 5. FreeForm will extend to add additional accessories so that more options are available in the future.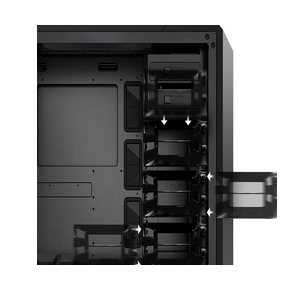 CLIP-AND-CLICK PANEL

But this isn't just about aesthetics. Each decision opens new possibilities. Leveraging our unique clip-and-click panel, FreeForm lets users vertically adjust or entirely remove your optical disk drive (ODD) and HDD via sliding locks so intuitive you'll play with your configurations just for fun.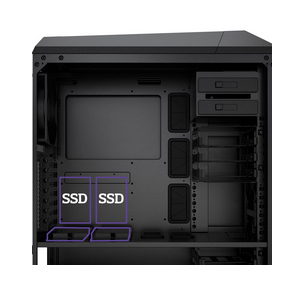 SLIP-AND-CLIP POCKETS

The first Cooler Master case to incorporate two easy to install slip-and-clip solid-state drive pockets (2.5") with four easy mounting positions. Showcase them on the partition panel or hide them behind the motherboard tray for a cleaner look.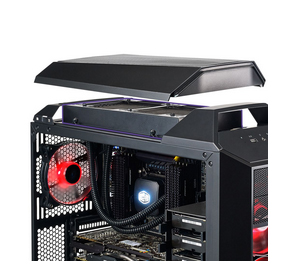 TOP COVER WITH RADIATOR BRACKET

Make it cooler. The MasterCase Pro 5 includes an easy-to-install water cooling bracket for quick drop-in installs of 240mm radiators or dual 120/140mm fans for additional airflow. The added mesh top cover securely hides your additional cooling and creates a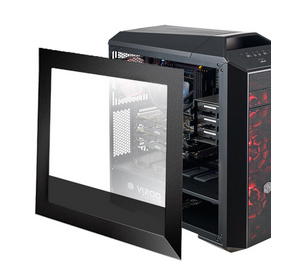 WINDOW SIDE PANEL

Show your goods through the added window side panel on the MasterCase Pro 5. The bottom partition gives you the ability to control just how much you want to show off or allows for customization to show off your style.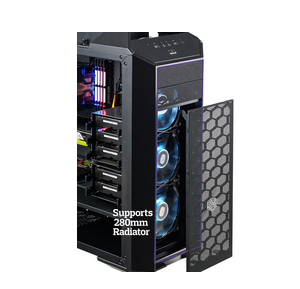 UNMATCHED VENTILATION

Looking for something more unique? FreeForm enables the option to install three front-mounted 140mm fans and a 280mm radiator for unmatchable ventilation due to a unique facility to horizontally shift the bottom-mounted hard disk drives. There's also support for up to six 140mm fans through the case, unique for a mid-sized tower.
DUAL CHAMBER DESIGN

Splits the case via a partition panel that isolates the power supply unit, and keeps drive cages separate for clean, customizable cable management with plenty of space behind the try to keep them nice and tucked away. Rear mounted installation makes it ideal for redundant power supplies for server or workstation integration.
CUSTOMIZE. ADJUST. UPGRADE.
The internal and external modularity of the MasterCase 5 design allows it to be upgraded to allow for multiple system setups like home servers, professional workstations, or even gaming rigs with advanced watercooling and up to three extra-long graphics cards. So whether it's an intensive rendering machine for 3D printing, VR development, high performance gaming, or even something totally unique and crazy, the MasterCase 5 has got you covered.